Benjamin R. McCorkle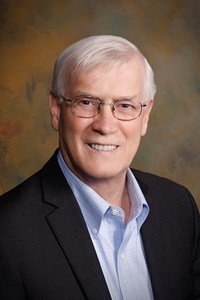 Selected as one of the top 100 Trial Lawyers in Arkansas, Benjamin McCorkle is a founding partner of Beacon Legal Group (BLG).  Honored by the Arkansas Bar Foundation for the best legal writing for 2014-15, Mr. McCorkle is an accomplished cyber law and mass torts attorney.  Mr. McCorkle's practice areas also include personal injury law, Constitutional law, appellate procedure, and business and commercial law.
Prior to founding BLG, Mr. McCorkle served as the Director of the Arkansas Legislative Information Office, and Executive Director of the Preparatory Committee for the 1980 Arkansas Constitutional Convention.
A proud techno-geek, Mr. McCorkle began a computer programming career in the early 1980's as founder and President of VS Software, a computer software development firm – a position he held until entering law school in 1998. His knowledge of Internet technologies and business law has made Mr. McCorkle a leading cyber law attorney, and his experience fighting for the rights of the injured has made him a leading mass torts attorney.
Mr. McCorkle is licensed to practice in: 
Arkansas State Courts
Eastern and Western District Federal Courts
Eight Circuit Court of Appeals 
He is a member of: 
Arkansas Bar Association
Arkansas Trial Lawyers Association
Federal Bar Association
National Trial Lawyers Association
Phi Kappa Phi
Education
Mr. McCorkle earned Bachelor's (Dean's Honor List) and Master's (Chancellor's Honor List) degrees in Communications from Texas Tech University.
He received his Juris Doctorate from the William Bowen School of Law, graduating with honors in 2001. Some of his distinguished student activities included:
Assistant Executive Editor of the Law Review
Swing Man for the National Moot Court Team
Swing Man for the Competition Trial Team
A member of the Phi Kappa Phi Honors Society
President of the Pulaski County Bar Association, Student Division
A Fogleman Scholarship Recipient
A pupil of the American Inns of Court Foundation
Dean and Master of Ritual for Delta Theta Phi legal fraternity
Student Mentor 
During the summer of 2000, Mr. McCorkle studied international business law at the Haifa Law Institute, University of Haifa School of Law, Haifa, Israel, publishing the top paper in Comparative International Business Law. Several of Mr. McCorkle's other top papers include: Communications Law, Computer Law, Privacy Law & Technology, International Business Law, and Mediation Clinic.
Experience 
After graduating from law school, Mr. McCorkle clerked for the Honorable Annabelle Imber-Tuck, Associate Justice of the Arkansas Supreme Court, served as Assistant Attorney General in the Consumer Protection Division, and worked as a litigator and legal researcher for the Law Offices of Peter Miller. In addition to his duties as a founding partner of BLG, Mr. McCorkle is also the Director of Legal Studies of the Arkansas Academy of Professional Education.
Publications 
Mr. McCorkle has been published in numerous legal periodicals during law school and as subsequently as a practicing attorney.  The Arkansas Bar Foundation honored him for the best legal writing in the Arkansas Lawyer 2014-15. He is a regular instructor at continuing legal education conferences, especially in cyber-law topics, and he was the organizer for the 2014-15 Tech Law conference and for the 2015-16 Tech Law conference of the Arkansas Bar Association.
Continuing Legal Education Presentations 
Arkansas Internet Legislation                 Ark AG                  2003
Arkansas Cyberlaw                                FBI                       2004
eDiscovery                                           ABA                       2013
eDiscovery                                           ABA                       2014
Web Audits                                           ABA                       2014
Using Legal Tech                                   ABA                       2014
eDiscovery                                           ATLA                      2014
Comparative Fault                                 ABA                       2015
Business by a Handshake?                     LR Chamber           2015
Internet Business Models                       SBA                       2015
Landmines & Lead Balloons,

Internet Pitfalls                           ABA                       2015

Legal Web Audits                                   ABA                       2015
Privacy Hot Topics                                  ABA                       2015
Tech Law Conference Coordinator            ABA                       2015
Gold in Them There BitCoins                   ABA                       2015
Non-Party Fault                                      ATLA                     2015
Social Media Discovery                           ABA                       2015
Tech Law Conference Coordinator            ABA                       2016
Social Media & Expert Witnesses             NBI                        2016
Free Sources for Legal Research              NBI                       2016
Internet Searching                                 NBI                       2016
Privacy & Judicial Disclosure                    Venture Center      2016
Tech & Future Law Firms                         ABA                      2016
Tech Law Conference Coordinator            ABA                      2016
ICE Storms Approach, I-9 Audit               ABA                      2017
Just for the "L" of It, L-1 Visas                 ABA                      2017
Immigration Law Update                         ABA                      2018
Get Ready for an I.C.E. Storm                 ABA                      2018
Mass Torts 101                                       ABA                      2018
Using Expert Witnesses – Social Media     NBI                       2018
Technology and Ethics                            ABA                       2019
Technology and Ethics                            ABA Best of            2019