Car Accidents & Road Construction: What Are Your Rights in Arkansas?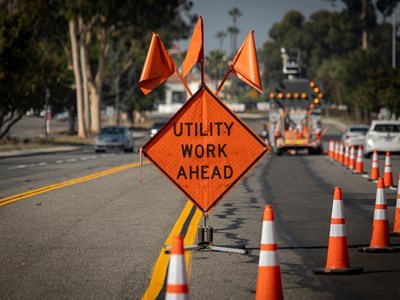 Road construction improves our community, but it can be stressful to endure in the process.  From traffic delays to unsafe conditions, many issues can occur at any point.
It is your duty and responsibility as a driver to slow down and drive as safely as possible in a construction zone.  Road construction crews also hold a duty of care towards the public by keeping worksites safe.  If a construction zone accident occurs due to the negligence of a contractor, company, or government entity, those parties may face liability for any financial losses you experience.
In this post, we'll help you understand the legal rights you have if you've suffered from road construction car accident injuries in Arkansas.
You Have the Right to Investigate the Accident's Cause
Your first right begins with the ability to investigate the cause of your accident before accepting an injury settlement.  If the construction company or other party played a role in your injuries, you may be able to recover additional forms of compensation such as pain and suffering.  The key to obtaining these awards lies in proving negligence.
Some examples of road construction negligence include:
Improper construction site set-up

Inadequate barriers or guardrails

Inadequate temporary lane markings

Insufficient construction signage

Negligent equipment or vehicle use

Poor road conditions, lighting, and weather

Roadway hazards

Traffic control and security failures

Unmarked road hazards
You can investigate the cause of your accident by using expert testimony, eyewitness accounts, accident reports, photographs, and other forms of evidence.  However, obtaining these items is challenging to do when you are recovering from an injury.  Instead of risking your insurance claim, hire a personal injury lawyer to investigate your accident and protect your case.
You Have the Right to Pursue Compensation from Liable Parties
Road construction is hazardous to both construction workers and motorists alike.  While construction is essential to keeping our roads in good working repair, it can cause harm along the way.  The National Highway Traffic Safety Administration (NHTSA) cited nearly 40,000 injuries in U.S. work zones in 2019.
Depending on the circumstances of your road construction accident, here are some potential parties that you could hold liable for your injuries:
Governments
In Arkansas, the city, county, or state may be liable for damages on public roads if poorly-designed or poorly-lit roadways caused the accident.  Other examples of negligent road defects include potholes, lack of medians or barriers, damaged guardrails, unsafe surfaces, malfunctioning bridges, or inadequate warning signs.  There are usually notification deadlines in addition to the statute of limitations which adds to the urgency of acting on your insurance claim quickly.  Furthermore, governmental entities enjoy protection from liability through the doctrine of "sovereign immunity."  Often your only recourse is through the state claims commission.
Construction Companies
It is a construction company's legal responsibility to ensure that its work zones are reasonably safe.  The project's management company and the construction site managers must take steps to help prevent car accidents.  Posting sufficient warning signs, removing equipment from roadways, and creating hazard-free detours around road work are some of the steps they should take.
The construction company may also be responsible for improper construction techniques and practices unless the company is working under the direct supervision of a governmental entity, such as the Arkansas Highway Department.  Then, the construction company may be protected from liability under the doctrine of "acquired immunity."
For example:
A company used the wrong surface material on a stretch of Arkansas highway, causing several accidents when the pavement got wet.  Those injured were unable to recover because paving material was specified by the highway department, giving the contractor protection based on acquired immunity.

In a contracting case, a contractor negligently designed a lane shift, causing a multi-car accident.  Because the lane shift design was neither approved nor supervised by the highway department, the construction company did not acquire the immunity of the state.
You will need the assistance of a skilled attorney to determine whether the construction company could be liable to your injuries.
Equipment Manufacturers
Some construction zone accidents occur due to hazardous, defective, or malfunctioning road construction equipment.  For example, if a concrete truck spills wet cement, this could lead to car accidents caused by manufacturer negligence.  Product liability cases are different from general personal injury matters, so you will want to speak with an attorney as soon as possible.
Other Third Parties
If a third party, such as another driver or a subcontractor, caused the accident, they could incur liability for your medical bills, lost wages, and more.  For example, if an Uber driver was speeding through a construction zone and caused your accident, Uber may be liable for your medical bills.
Keep in mind that liability is not always evident and may require a deep investigation of the facts.  Ensure that you have the evidence and information you need to determine what compensation is available to you after a road construction accident.
You Have the Right to a Fair Settlement or Civil Award
State and federal laws agree that you should not have to pay for accident injuries that you did not cause.  If you suffered a car accident injury at the hands of another person, the insurance company or liable parties owe you a fair settlement or civil reward for your losses.
Compensation available after a car accident includes:
Current and future medical bills

Lost work wages and benefits for time missed

Physical pain and suffering

Wrongful death and lost consortium awards

Lost enjoyment of life

Other types of compensation as recoverable
You will also need to prove the financial and physical losses you suffered.  While medical bills and accident reports suffice for an initial understanding of the case, you could be leaving a lot of money on the table if you aren't thorough.  Make sure to keep a daily journal regarding your accident case, avoid posting to social media, and always follow through on the advice of your doctor and lawyer.
You Have the Right to Hire an Arkansas Car Accident Injury Lawyer
When establishing and operating a road construction zone, the state, local governments, contractors, and workers must adhere to specific rules.  If they do not follow these rules, it can create a dangerous situation for drivers and others on the road.  The road construction car accident lawyers at Beacon Legal Group in Little Rock have the experience and determination you need when pursuing a fair settlement or civil court award.
Get an Initial Consultation with Beacon Legal Group in Little Rock
You have legal rights after a car accident on a road construction site.  Our legal team represents car accident injury victims, regardless of where the accident occurred.  Schedule an initial meeting with Beacon Legal Group by calling (501) 907-9539 or sending us a message online.